Hardware Installation
12/3/2022
Functionalities:
Hardware
Product version:
3.3, 2022
SpaceLogic™ IP-IO
Part numbers: SXWIPIOAA10001, SXWIPIOBA10001, and SXWIPIOCA10001
Safety Information
Electrical equipment should be installed, operated, serviced, and maintained only by qualified personnel. No responsibility is assumed by Schneider Electric for any consequences arising out of the use of this material.
Carefully read these instructions and all information relevant for this product before trying to install it. See the list of technical literature.
Technical Literature
The technical literature and declarations of conformity can be accessed on the Schneider Electric extranet, ecoxpert.se.com. Contact your local Schneider Electric sales office for a hard copy of the documentation or for additional information.
Installing the Device on a DIN Rail
Notice
EQUIPMENT DAMAGE
Use the DIN rail end clip when you install the device on a vertical DIN rail.
Failure to follow these instructions can result in equipment damage.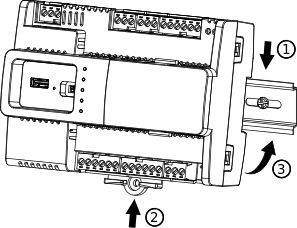 Connections
Danger
HAZARD OF ELECTRIC SHOCK, EXPLOSION, OR ARC FLASH
Disconnect all line voltage connected to the IP-IO module and its relay outputs before working on the device.

More than one disconnect switch may be required to de-energize this equipment before servicing.

Connect only devices with safe extra low voltage equipment (SELV/PELV) inputs/outputs to the IP-IO module universal inputs/outputs.
Failure to follow these instructions will result in death or serious injury.
Notice
EQUIPMENT DAMAGE
Before powering up the IP-IO module, ensure that the input power polarity is correct, the voltage level meets the specifications of the module, and the terminal blocks are plugged into the correct connector headers on the module.
Failure to follow these instructions can result in equipment damage.



Wiring
Recommended screw tightening torque: 0.56 Nm (5 lbf.in)
For information on wiring, see the SpaceLogic and EasyLogic - Hardware Reference Guide.
Part Numbers
Product

Part number

IP-IO-DI10

SXWIPIOAA10001

IP-IO-UIO10

SXWIPIOBA10001

IP-IO-UIO5DOFA4

SXWIPIOCA10001

MP-C DISPLAY

(MP-C override display module)

SXWMPCDSP10001

DIN-rail end clip, 25 pieces

SXWDINEND10001
Specifications
AC input

Nominal voltage

24 VAC

50/60 Hz

Power consumption

17 VA

DC input

Nominal voltage

24 to 30 VDC

Power consumption

9 W

Port types

USB device port

Mini-B

USB host port

Type-A

Ethernet port 1 and 2

10/100BASE-TX RJ45

Operation environment

Ambient temperature, operating

0 to 50 °C (32 to 122 °F) at normal operation

-40 to +60 °C (-40 to +140 °F) for rooftop applications, horizontal installation only

See section Installation Orientation Restrictions.

MP-C Display temperature range: -30 to +60 °C (-22 to +140 °F)

Humidity

Maximum 95 % RH non-condensing

Mechanical

Ingress protection rating

IP 20

Plastic flame rating

UL94-5VB

IP networking

IP address assignment methods

Static, DHCP (default), Auto-IP (address range 169.254.0.1 to 169.254.255.254, subnet mask 255.255.0.0)

DI – Digital inputs

Input rating

24 VDC

, 2.4 mA

Channels

IP-IO-DI10: 10; IP-IO-UIO10: 0; IP-IO-UIO5DOFA4: 0

Ub – Universal I/O

Input rating

24 VDC

, 2.4 mA

Voltage output rating

0 to 10 VDC

, 5 kohm (min.)

Channels

IP-IO-DI10: 0; IP-IO-UIO10: 10; IP-IO-UIO5DOFA4: 5

DO – Relay outputs

Relay contact rating

250 VAC

/ 30 VDC

, 2 A

Pilot Duty (C300)

Channels

IP-IO-DI10: 0; IP-IO-UIO10: 0; IP-IO-UIO5DOFA4: 3

DO – High power relay outputs

Relay contact rating

250 VAC

/ 24 VDC

, 12 A

Pilot Duty (B300)

Channels

IP-IO-DI10: 0; IP-IO-UIO10: 0; IP-IO-UIO5DOFA4: 1
Addendum - California Proposition 65 Warning Statement for California Residents

WARNING: This product can expose you to chemicals including lead which is known to the State of California to cause cancer and which is known to the State of California to cause birth defects or other reproductive harm. For more information go to www.P65Warnings.ca.gov