SpaceLogic™ RP-C-EXT-MS-BLE
Safety Information
Electrical equipment should be installed, operated, serviced, and maintained only by qualified personnel. No responsibility is assumed by Schneider Electric for any consequences arising out of the use of this material.
Carefully read these instructions and all information relevant for this product before trying to install it. See the list of technical literature.
Technical Literature
The technical literature and declarations of conformity can be accessed on the Schneider Electric extranet, ecoxpert.se.com. Contact your local Schneider Electric sales office for a hard copy of the documentation or for additional information.
Installation Orientation Restrictions
The RP-C-EXT-MS-BLE Multi-sensor is intended for installation on a ceiling. The device can also be installed on a junction box when there is no ceiling and space is opened to plenum.
Installing the Device on a Dropped Ceiling Using the Mounting Springs (Preferred Method)
action_zoom_plus_stroke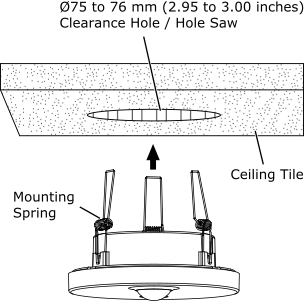 Removing the Mounting Springs Before Using the Mounting Ring (Alternate Method)
action_zoom_plus_stroke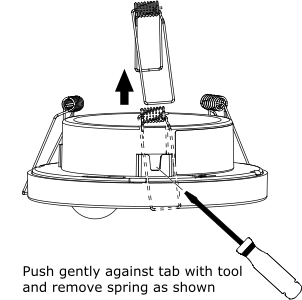 Part Numbers
Product

Part number

RP-C-EXT-MS-BLE

Includes Multi-sensor, mounting springs (3x), and mounting ring

SXWREMSBLE10001

RP-C-EXT-MR-K5

SpaceLogic Sensor Mounting Ring Kit 5 pcs

SXWREMR5XX10001
Specifications
DC input

Nominal voltage

24 VDC, powered by the RP controller through the room bus (RJ45)

Maximum power consumption

0.3 W

Port types

Room bus

RS-485, dual RJ45 ports for daisy-chain configurations

Wireless connectivity

Bluetooth ® Low Energy (Bluetooth ® 5)

2.402 to 2.480 GHz, max. 3 dBm output power, 50 m (164 ft) line-of-sight range

Antenna

Integrated antenna

Operation environment

Ambient temperature, operating

0 to 50 °C (32 to 122 °F)

Humidity

20 to 90 % RH non-condensing

Mechanical

Ingress protection rating

IP 20

Plastic flame rating

UL94 V-0

Plenum rating

UL 2043 (Approved for plenum installations)
Addendum - California Proposition 65 Warning Statement for California Residents
action_zoom_plus_stroke

WARNING:
This product can expose you to chemicals including lead which is known to the State of California to cause cancer and which is known to the State of California to cause birth defects or other reproductive harm. For more information go to www.P65Warnings.ca.gov
action_zoom_plus_stroke