Concept
1/31/2020
Products:
​License Administrator, ​License Server
Functionalities:
License Management
Product version:
3.1, 3.2, 3.3, 2022
License Management
The EcoStruxure Building Operation license system consists of, for example, a License Server, WorkStation with client tools, and the Enterprise Server. The number of each component varies depending on the system size and architecture.
In this example, the License Server and Enterprise Server are located on the same computer. Several WorkStations check out licenses from the License Server through the local area network. Network licenses are activated on the License Server by the License Activation Server that is controlled by Schneider Electric.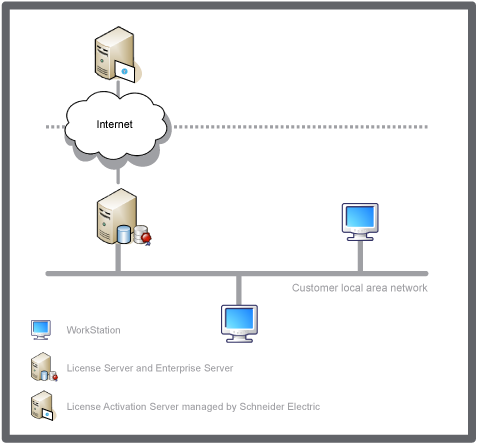 License System Installation and Configuration
Schneider Electric recommends that you install the license server framework before installing other EcoStruxure Building Operation software applications and SmartX servers. The license server installation is included in the License Administrator license package. During the installation of WorkStation or Enterprise Server, the installation software asks for the address to the license server.
For more information, see Installation Example .