Concept
5/18/2018
Products:
​License Administrator, ​License Server
Functionalities:
License Management
Product version:
1.8, 1.9
​License Server Address
​During the installation of License Administrator on WorkStations or Enterprise Servers, you need to type the network address to the License Server where network licenses are available for check out. The address to the License Server can later be entered or edited through License Administrator or directly in the Windows registry ​of the computer or Enterprise Server that hosts the licensed product.
In a 32-bit operating system, the License Server address is stored in the Windows registry key: HKEY_LOCAL_MACHINE\SOFTWARE\Schneider Electric\StruxureWare\License Administrator\TACLIC_LICENSE_FILE. In a 64-bit operating system, there is a separate area in the registry for all running 32-bit programs.
The address to a License Server must begin with @ and is either a hostname or IP address. If the communication to the License Server is through a port other than the default port range 27000-27009, the port number is defined in front of the @, Port-number@hostname.
| | |
| --- | --- |
| Address | Description |
| 19650@localhost | Connects to localhost through port 19650 |
| @server2c.schneider-electric.com | Connects to License Server server2c.schneider-electric.com through a port in the default port range 27000-27009 |
| 14650@192.166.248.2 | Connects to License Server 192.166.248.2 through port 14650 |
To separate License Server addresses in License Administrator, use a semicolon.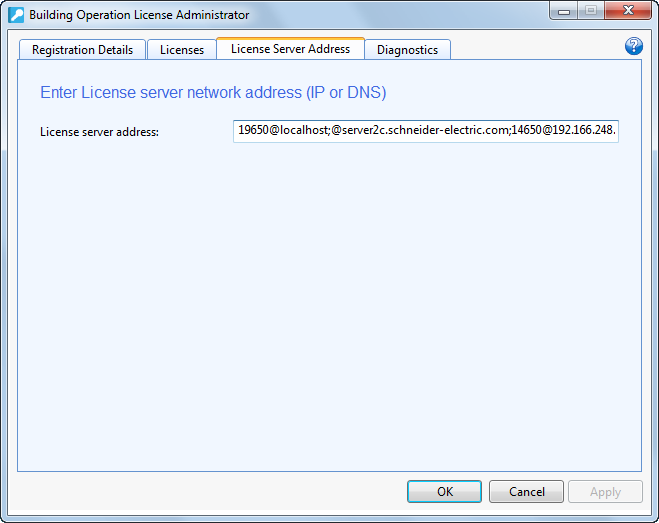 ​In this example, @localhost refers to this computer, through port 19650. For example if a License Server and an Enterprise Server are located on the same computer, the network address of the Enterprise Server to the License Server is recommended to be @localhost.​