Concept
3/13/2018
Products:
​License Administrator, ​License Server
Functionalities:
License Management
Network License Upgrade
When a new license version is released it is recommended that you upgrade your old versions. Customers that have signed up for the Building Operation Maintenance Subscription are automatically notified about the new upgrade and can directly activate the newest version. If your organization does not have the Building Operation Maintenance Subscription, contact your Building Operation vendor to place an upgrade order.
You activate the upgrade by using the same Entitlement ID as you used when you first activated the licenses on your License Server. Before licenses with the new version are activated, all licenses with the older version included in the Entitlement Certification are returned to the License Activation Server.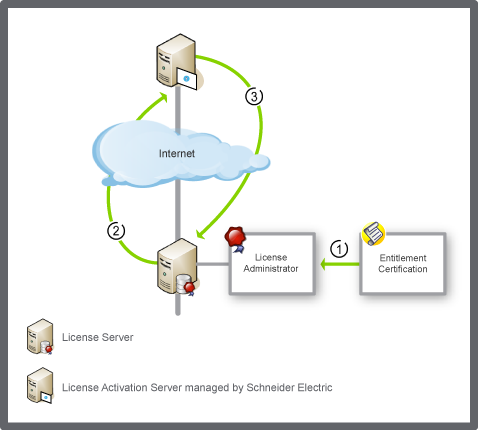 | | |
| --- | --- |
| Number | Description |
| 1 | The Entitlement Certificate, which contains the licenses to upgrade, is entered into the License Administrator. |
| 2 | All licenses with old versions are returned to the License Activation Server. |
| 3 | Licenses with the new version are activated on the License Server. |