Concept
9/27/2021
Functionalities:
Hardware
Product version:
3.0, 3.1, 3.2, 3.3
RP-C Wireless Connectivity
RP-C is a Bluetooth Low Energy (BLE) enabled product. You can use this wireless connectivity option for connecting a smartphone or tablet running the eCommission SmartX Controllers mobile application to the RP-C.
RP-C has an integrated antenna. An optional external antenna can be connected to the RF connector to improve the reception quality, for example, when the controller is installed inside a metal cabinet. The RF connector is an SMA female connector.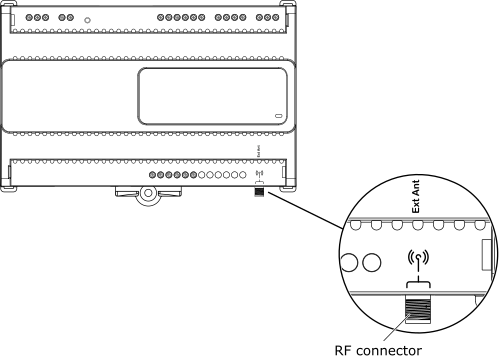 In addition to the integrated antenna, the RP-C controllers have also been approved to operate with the external antenna type listed below with the maximum permissible gain and required antenna impedance for the antenna type indicated. Antenna types not included in this list that have a gain greater than the maximum gain indicated for that type, are prohibited for use with the controllers.
| | | | | |
| --- | --- | --- | --- | --- |
| Manufacturer | Model (Part number) | Gain | Type | Impedance |
| Linx Technologies | ANT-2.4-WRT-MON-SMA | 0.8 dBi | Monopole | 50 ohm |
The RP-C controller (with its integrated antenna) and the optional external antenna must be professionally installed to comply with the following rules and regulations:
Part 15 of the Federal Communications Commission (FCC) rules

Innovation, Science and Economic Development Canada (ISED) licence-exempt Radio Standards Specifications (RSSs)

2014/53/EU Radio Equipment Directive (RED) of the European Union (EU)
For more information, see RP-C Regulatory Compliance and Approvals .