AD v3 Power Button
AD v3 has a power button that is used to power on the device, to turn off or reboot the device, and to perform other actions.
The power button is located centrally, on the top of the device.
action_zoom_plus_stroke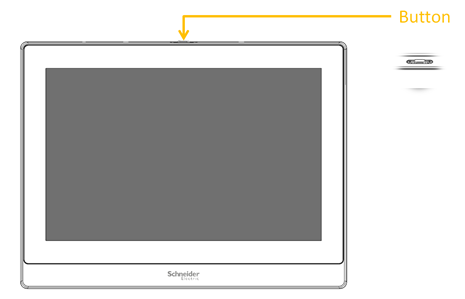 The action of the AD v3 power button depends on which mode the device is in and how long the power button is pressed.
| | | |
| --- | --- | --- |
| Mode | Power Button | Action |
| Device turned off | Short press | Device starts |
| Device turned off | Long press (more than 10 seconds) | Recovery (factory reset) |
| On home screen | Long press (more than 3 seconds) | Dialog box to turn off or reboot device |
| HMI Kiosk open | Short or long press | Message that the action is blocked |
| App in Kiosk mode | Short press (less than 3 seconds) | Prompt to enter password to exit app and return to HMI Kiosk |
| Any other app open | Short press | Exit app and return to home screen |
| Any other app open b | Long press (more than 3 seconds) | Dialog box to turn off or reboot device |
| Time out (sleep) | Short press (less than 3 seconds) | Wake up |