Concept
7/15/2020
Products:
​License Administrator, ​License Server
Functionalities:
License Management
Product version:
3.2, 3.3, 2022
​WorkStation and Client Tools Address Configuration
After licenses are activated on the License Server you have to configure Workstation and its client tools connection to License Server, where licenses are available to be activated. The address to the License Server is defined during the installation of WorkStation. This is done using License Administrator.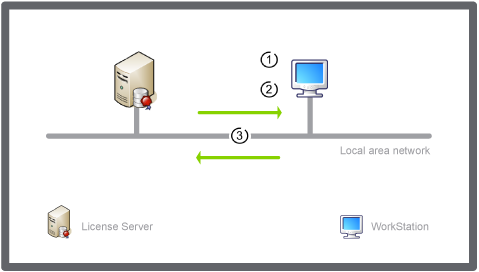 | | |
| --- | --- |
| Number | Description |
| 1 | Configure the WorkStation and client tool address to the License Server. |
| 2 | Remove any activated demo licenses. |
| 3 | When you logon to WorkStation or start a client tool, the required license is automatically activated on the License Server. |
An activated ExoStruxure Buildning Oeration software license is not physically moved to or activated on WorkStation. The client station and client tool licenses remain in the License Server but are allocated to the dedicated WorkStation. The license is therefore not available for other WorkStations to use.