Features
The PS-24V is a power supply module that accommodates 24 VAC or 24 VDC input power.
Reliable consistent output power
Each power supply module delivers reliable and consistent output power of 24 VDC to the terminal base.
30 W rating
This power supply module can supply power for loads up to 30 W. The consumption of downstream modules can vary. A PS-24V can deliver power to one AS-P server and a number of Central IO modules calculated from the Power Budget table. If more Central IO modules are needed, another power supply can be added to the bus. The output power delivered by the previous power supply on the bus is interrupted in the terminal base of the next power supply while also providing communication and ground pass-through.
| | |
| --- | --- |
| Module | DC input supply power |
| AS-P server | 10 W |
| DI-16 | 1.6 W |
| UI-16 | 1.8 W |
| RTD-DI-16 | 1.6 W |
| DO-FA-12(-H) | 1.8 W |
| DO-FC-8(-H) | 2.2 W |
| AO-8(-H) | 4.9 W |
| AO-V-8(-H) | 0.7 W |
| UI-8/DO-FC-4(-H) | 1.9 W |
| UI-8/AO-4 | 3.2 W |
| UI-8/AO-V-4(-H) | 1.0 W |
Modular and scalable system
The modules are part of a modular system that delivers power and communications on a common bus. Connecting modules is a one-step process: just slide the modules together using the built-in connectors.
Polarity independent
The main AC/DC input (L/+ and N/-) is galvanically isolated from the DC output (to the I/O bus). This removes the risk of damage due to earth currents and permits the input power to be wired without concern for polarity matching.
Overload protection
When a power supply module's load (total load of AS-P server, Central IO modules, and communication modules) exceeds its rating, the power supply module will protect itself from being damaged.
Patented two-piece design
Each module can be separated from its terminal base to allow the site to be wired prior to the installation of the electronics. The patented locking mechanism serves as handles for removing the module from its base. All critical components have a protective cover that permits convection cooling to occur.
action_zoom_plus_stroke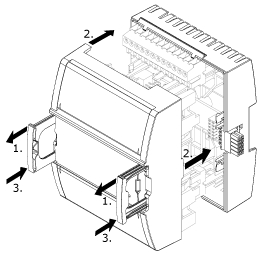 Auto-addressing
The auto-addressing feature helps eliminating the need for setting DIP switches or pressing commission buttons. Each module automatically knows its order in the chain and assigns itself accordingly – significantly reducing engineering and maintenance time.
Simple DIN-rail installation
Fasteners easily snap into a locked position for panel installation. The fastener has a quick-release feature for easy DIN-rail removal.
Accommodates multiple row panel installations
The SpaceLogic devices use built-in connectors for single row connectivity, side by side. If a panel size requires multiple rows, extension cords are available.
LED status indicators
The front panel of the PS-24V module includes status LEDs for input and output power. The LED for input power indicates the status of the main power. The output power indicator shows if the power supply output is within the proper range.