Concept
12/17/2021
Products:
AS-B, Device Administrator, ​License Administrator, AS-P
Functionalities:
Hardware, SmartDrivers
Product version:
3.3, 2022
Automation Server Licensing Workflow
Use this workflow to add licenses to automation servers using Device Administrator.
Related information can be found in the sections after the flowchart.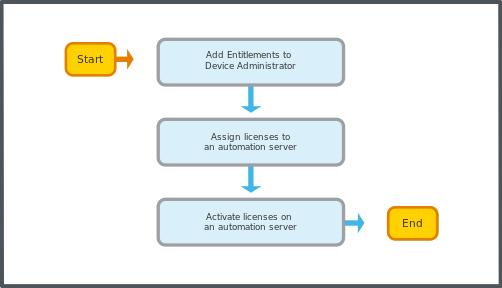 Add Entitlements to Device Administrator
In Device Administrator, add an Entitlement that contains products and licenses to Device Administrator.
For more information, see Adding an Entitlement to Device Administrator .
Assign licenses to an automation server
Assign the licenses in the Entitlement for the features you want to use on the automation servers.
For more information, see Assigning Licenses .
Activate licenses on an automation server
For more information, see Activating Licenses Online .
If you do not have internet access, you can activate licenses offline.
For more information, see Offline Activation of Licenses Workflow .
Important:
Activated licenses cannot be deactivated.